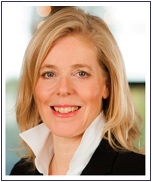 With a corporate career of more than twenty years, Ute's interests and wide-ranging experience lie in executive coaching, leadership development and diversity management. An authority on strategic HR management she has extensive knowledge and experience in the execution of global and cross-cultural projects. For more than eight years Ute has specialized on the consequences of globalization and demographic change on HR strategy and policies.
Prior to establishing her coaching and consulting practice, she held different technical expert and management roles mainly for Diversity Management and Leadership Development in one of the world's leading banks. Her responsibilities comprised the bank's global HR development strategy, executive leadership programs and change management consultancy during restructuring and transformation processes.
Ute shares her comprehensive coaching experience in both personal and professional change processes, enabling her clients to manage (voluntary and involuntary) career change, work life balance, and major professional challenges more competently and proficiently. She works for multinationals as well as for medium sized companies such as Allianz, Aptar Group, Arla, Boehringer France, Bosch, Celgene, Daiichi Sankyo Europe, DHL, Evonik, Maersk-Svitzer, McCormick France, Michelin, PERI, TJX Europe.
She is a trained psychologist with a Diploma (German equivalent of a Master´s degree) from the University of Marburg, and a Ph.D. degree from the University of Giessen, both Germany. She is trained as a business coach from International Mozaik, France. Based in France for several years, Ute works in the following languages; German (native), English and French.